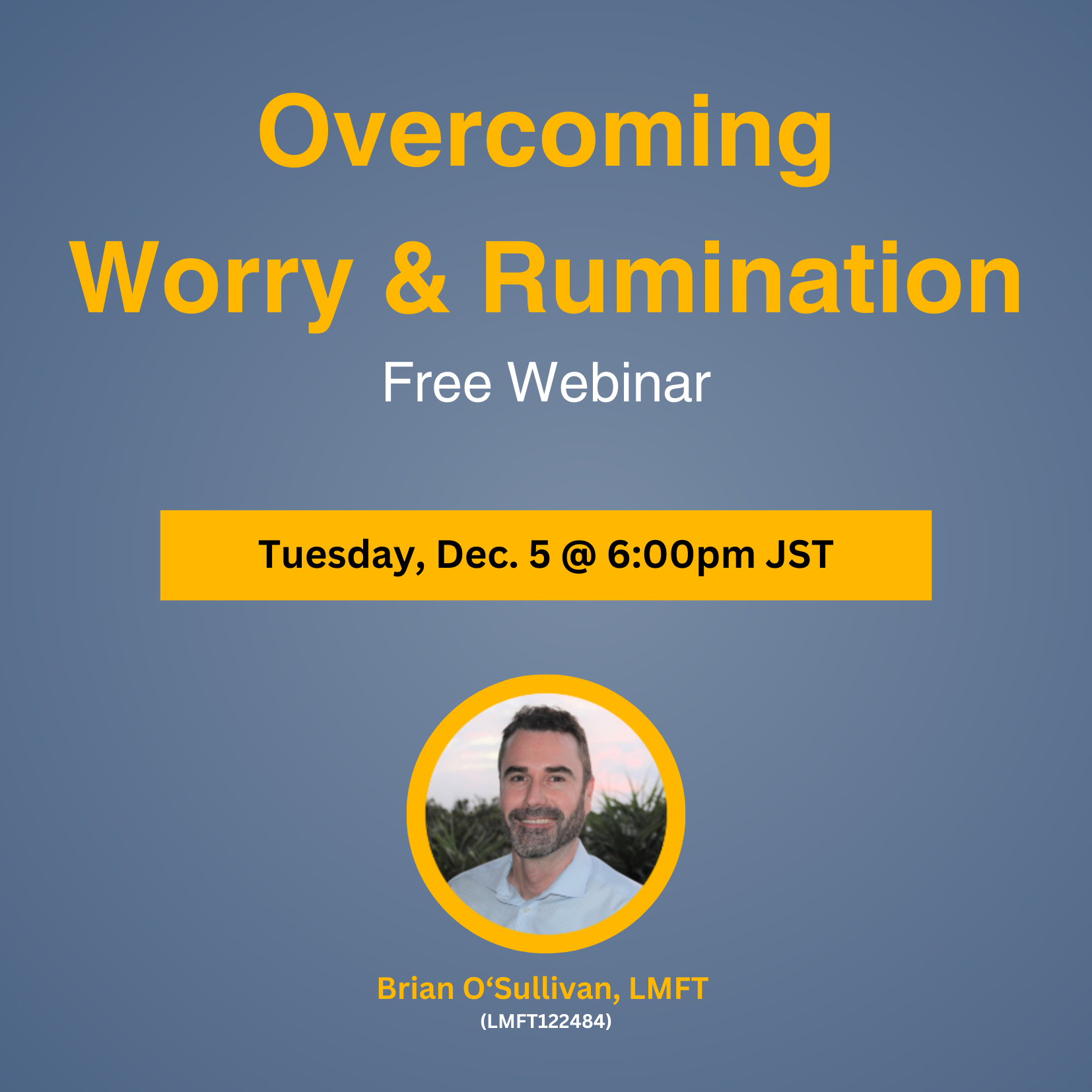 Overcoming Worry & Rumination
In our fast-paced world, anxiety, excessive worry, and rumination can take a toll on our well-being, leaving us feeling trapped and out of control in a vicious cycle. Join me for a one-hour webinar focused on practical Cognitive Behavioral Therapy (CBT) techniques to help you gain control over anxious thoughts.
Key Highlights:
Understanding the Brain and Anxiety:
Gain insights into the brain's role in perpetuating anxious thought patterns. Learn how the brain learns unhelpful lessons that serve as the foundation for anxiety and excessive worry. Discover the science behind why we often find ourselves trapped in these cycles.
CBT Strategies for Managing Anxiety and Worry:
Discover evidence-based techniques to break negative and intrusive thought patterns.
Building Resilience:
Develop practical strategies that assist in staying out of the anxiety cycle long-term. Cultivate mindfulness for emotional well-being.
Is there a fee? No, the class is completely free.
Can I just listen or do I need to participate? You're welcome either way. Turn on your camera and audio to interact with others or you're more than welcome to just soak up the information without camera/audio. No pressure.
Who can attend? Adults, 18 years or older.
Japan Time:
Tue, 12/5 @ 6:00pm – 7:00pm
Speaker
Brian O'Sullivan LMFT

Okinawa, Japan

Brian O'Sullivan is a Licensed Marriage & Family Therapist from California, living and working in Okinawa, Japan. Brian's work as a psychotherapist focuses on overcoming anxiety: general anxiety, panic attacks, social anxiety, and OCD. Brian is trained in Cognitive Behavioral Therapy (CBT) and Exposure & Response Prevention (ERP), both evidenced-based, gold-standard treatments for anxiety disorders and OCD.

Brian has experience working in the non-profit and public school sectors in San Francisco and with the Department of Defense and UCLA in 29-Palms, California and Okinawa, Japan. Brian has been in private practice in Okinawa since 2021.