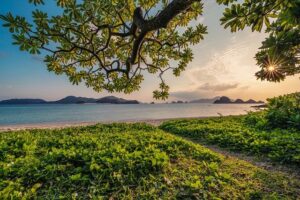 If you're thinking about living in Okinawa, there can be a lot of things to consider and questions can pile up. And the first and most common one is: can Americans even live here?
Americans need a Japanese visa to live in Okinawa as it's governed by Japan. U.S. military personnel are exempt from this. A person under specific orders or invitation by the U.S. DoD to work in Japan, they receive "SOFA status," giving them permission to live here, along with other privileges.
Let's first start with how to live in Okinawa with a regular Japanese visa. Then I'll explain what SOFA status is and some thoughts on what's it like to live in Okinawa as an American.
It's important to know that I'm not an expert in legal or immigration issues. Please use this article only as a starting point.
Types of Japanese Visas (How to Live in Okinawa if You're Not SOFA Status)
If you're not active duty military or don't plan on working with the military as a civilian in Okinawa, you'll need to obtain a visa issued by the Japanese immigration office. According to June Advisors Group (visa support & business consulting in Japnan), there are 27 different types of Japanese visas that fall into 1 of 3 different categories:
Working visa (this type of visa allows you to work while in Japan and Okinawa)
Non-working visa (for example, a student visa; you're not allowed to work with this visa)
Family visa (getting a visa due to certain family situations)
Here are the important things to know:
Japan only issues work visas for jobs that require a higher level of skill (there are 16 types of jobs you can do which are listed on the Ministry of Foreign Affairs of Japan's website, under the "Working Visa" heading).
In most situations, if you want a visa, you'll need to find a "sponsor."

For a work visa, this means finding an organization that will "invite" you to work for them. They will help coordinate your visa.

Not all organizations will sponsor visas

For a non-work visa, you'll still need a sponsor (for example, the school you attend will help coordinate your visa)

You can only have one visa at a time
Getting a Japanese Visa
Unless you're going to be a student or are married to a Japanese national, you'll most likely need to find a job to live in Okinawa. And this job will need to be with a company willing and able to sponsor your visa.
If your Japanese language skills are strong, there will be far more work opportunities for you in Okinawa, but I'm guessing, still relatively small compared to your home country/city.
For non-Japanese speaking Americans, finding work in Okinawa will be even more difficult. It's not impossible, but you'll have to dig a lot more, and it probably won't be your dream job.
Here are the most common jobs Americans find in Okinawa:
English Teaching
English teaching is a very popular way for Americans to live and work in mainland Japan. It's also possible in Okinawa.
Here are some sources to check:
GaijinPot Jobs - https://jobs.gaijinpot.com/job/index/lang/en
Google - Do a Google search for English schools in Okinawa. See if any are hiring or willing to accept applications.
Teaching at an International School
There are some jobs at the various international schools on the island. Not all of them will hire Americans, but some will.
Here's a list of international schools in Okinawa that I try to keep updated.
Okinawa Institute of Science and Technology
OIST is probably the second largest community of English speakers on the island (much smaller of course to the U.S. military community). OIST mostly has jobs for researchers, but you can occasionally find other positions:
OIST - https://www.oist.jp/careers
What is SOFA Status?
SOFA stands for "status of forces agreement," which is an agreement between two countries, where one country allows the other to station its military forces within its borders.
The agreement between Japan and the U.S. gives U.S. military active duty and civilian personnel special privileges:
Exemption from Japanese visa and passport laws
Exemption from paying Japanese income tax
Driving privileges without needing to obtain a Japanese driver's license
Reduction in automobile tax rate
Most people, but not all, who are under SOFA in Japan, also receive:
Access to U.S. installations and their facilities (pool, gym, etc.)
Access to U.S. postal services on installations within Japan
Access to U.S. grocery stores and department stores on installations
Military housing
Access to the U.S. Navy Hospital
DoD ID card
How do you Obtain SOFA Status?
According to the U.S. Marine Corps Installations Pacific, SOFA status means that you belong to one of the following groups:
U.S. active-duty, given orders by the military to go to Japan
U.S. civilian who is employed by the U.S. military or are employed by a private organization to do specific work for the military in Japan
A dependent (spouse, children, step-children, adult children who are dependent, parent or parent-in-law who are dependent) of people who fall into number 1 or 2 above
In short, you need to be invited by the U.S. military to work in Japan. If you're in the military, that's through specific orders. If you're a civilian, you need to find a job either working directly for the government or for a company that holds a contract with the military.
Where to Look for SOFA Status Jobs in Okinawa
Here's a list I compiled of the most consistent employers on the island that will likely sponsor a SOFA:
There are many other employers that will sponsor your SOFA status than what's listed above. Those companies are hard to list because it's a revolving door. Private companies have to bid on DoD contracts and those contracts can be for a limited time.
To find jobs with private companies contracted on base, major online job boards will probably be helpful.
Here are a couple of job boards to research jobs:
For indeed, it's best to search by typing "Okinawa" in the "What" field rather than the "Where" field. If you type in the "Where" field, it will most likely bring you to the Japanese version of indeed.com and all the jobs will be off-base jobs in Okinawa, for Okinawan residents.
Also, if you're currently in Japan, you'll most likely be taken to the Japanese version right away. To get back to the U.S. site, follow these steps:
Type in "California" in the field furthest to the right (closest to the blue button)
Press the blue button
You'll notice a link just under the search area and a little to the left; it will have a U.S. flag and read "California." Click that link.
You'll be taken to the U.S. version of indeed.com
Type in "Okinawa" in the "What" field and delete "California" in the "Where" field
For glassdoor.com, it's helpful to try a couple of searches: "Okinawa" in the "Title, Keywords, or Company" field and a separate search with "Okinawa" in the "Location" field.
SOFA and Japanese Visa Consideration
An important thing to consider is Japan's permanent residence visa. For foreigners who want to live in Japan long-term, this visa is often sought after.
There are a few ways to get this visa, however, common ways are:
Get married to a Japanese national; after being married for 3 years and living in Japan for over a year.
Live in Japan and hold a Japanese visa for 10 years
There are other ways, which you can learn about here.
The important thing to know, however, is that from my understanding, if you're in Japan under SOFA, you're technically not residing in Japan. So, you can't use this time to count toward the 10-year requirement. It's probably a good idea to talk to an immigration lawyer to learn more about this.
How Many Americans Live in Okinawa?
It's important to distinguish between Americans who are residents of Okinawa vs those who are here with the U.S. military.
For the most part, active-duty military are in Okinawa anywhere from 6-months to 3 years. For civilians working with the U.S. military, it's usually between 1 to 5 years.
There are some Americans associated with the military who have been here more than a decade, but they are by far the exception rather than the rule.
According to the U.S. Marines, 1st Marine Aircraft Wing, there are around 80,000 Americans here under SOFA: 30,000 active-duty military, 1,400 DoD civilians, 700 DoD teachers and staff, and about 25,000 accompanying family members.
However, if you add up all those pieces, it totals only 57,100; I'm not sure what categories the remaining 22,900 people fall into.
As for Americans who are residents in Japan, as of June, 2019, there were 2,744, according to the Ministry of Justice.
Conclusion
It's completely possible for Americans to live in Okinawa, but it's important to know that Okinawa is not U.S. territory. I hope this was a helpful starting point in your interest in living in Okinawa.
About Brian
Brian O'Sullivan, LMFT is a Licensed Marriage & Family Therapist. He has a small private practice providing counseling in Okinawa and online therapy in Japan to the adult, English-speaking population.